Spotlight: Lineage
For private jet charter advice and prices on the Lineage or any other private jet call our 24 hour expert Flight Team on +44 (0)20 7315 4428 or search for instant estimate prices from your local airport using our flight search:
Seats: 19 Speed: Up to 470 kts   Range: Up to 4500nm (London-Mumbai)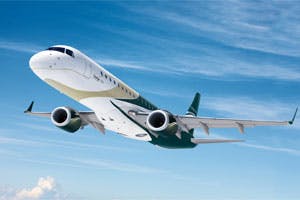 In 2001 Embraer converted their ERJ 135 airliner into a business jet variant. Renamed as the 'Legacy 600' they hit upon a winning recipe.
Embraer have used similar ingredients again with the Lineage 1000 which providing airliner manufacturing efficiency to a cost conscious private jet marketplace.
The Lineage 1000 has been developed from the Embraer 190 regional jet airliner. At a cost of $50M the private jet customer gets a lot of cabin space for their buck.
With 5 separated internal cabins areas normal configurations include a dining room, VIP lounge and a double bedroom complete with a shower unit.
Just like its younger sister (the Legacy), the Lineage is sending shocks waves across the flight path of its competitors. With the Boeing business jet priced at $150M the Lineage is in prime position to get the attention of the post-recession cost-conscious private jet customer.
Without compromise the Lineage 1000 is the ideal aircraft for Head of States, corporate boards and High Net Worth families.
Onboard facilities include a fully equipped galley, full sized flat screen TVs throughout, Wi-Fi broadband providing internet and telephone communications around the globe.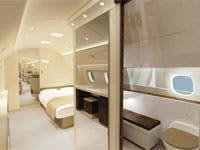 Combining space, comfort and modern technology the Lineage 1000 is set to become the ultimate business jet aircraft.
Providing the highest of interior specifications with the lowest price tag in the range; Embraer have surely found themselves another market leader in the Lineage 1000.
Charter a Lineage Private Jet
Please call +44 (0)20 7315 4428 for a private jet charter quote or business jet hire advice.