Cranfield Airport
Overview summary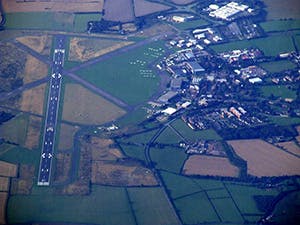 Cranfield Airport is an airfield located just outside the village of Cranfield in Bedfordshire, England. It is home to the Met Office facility for Airborne Atmospheric Measurements. It is also the nearest airport to Silverstone, home of the British Grand Prix.

For private jet hire to or from Cranfield Airport call PrivateFly on +44 (0) 20 7100 6960 (24 hours).
History | Landing at Cranfield Airport | Location | Facts | Opening Hours
History
The airport was originally built in 1935 by the Air Ministry and opened on 1st June 1937. It was used as a military base during the Second World War. It initially had a grass airstrip, which was soon replaced by 3 hardened runways in 1939.

During the war it became a target for the enemies who dropped bombs and mines over the airport and the town of Cranfield.
Landing at Cranfield Airport
Location
The airport is located just 10 minutes from Milton Keynes and 55 minutes from London via the M1 motorway located just 3 miles away.

Cranfield is just 29km from Silverstone race track, home of the British Grand Prix. It is the closest airport for the event and sees an increase of 450% in private jet movements during the British Grand Prix, compared to a normal day. During the event, Cranfield airport is dedicated to Grand Prix visitors and is also very busy as a helicopter landing site.

The airport is a customs port of entry and its location makes it an attractive option for those wishing to travel to the Midlands and London.

Passengers travelling via the airport can also benefit from direct helicopter transfers if needed resulting in passengers being in London under half an hour after landing at Cranfield Airport.
Facts
Airport Code: ICAO – EGTC
Latitude: 52°04'20"N
Longitude: 0°37'00"W
Elevation: 358ft (109m)
The airport has 2 runways, the longest of which is 5928ft
Although this runway length means it can handle small it medium sized airliners, the rest of the airport's infrastructure is incapable of supporting scheduled passenger flights.
Opening Hours
The airport's operating hours are as follows:

Monday – Friday: 08:00-18:30 local time

Weekends & Public Holidays: 09:00-18:00 local time

There is 24-hour availability but this must be arranged beforehand.