The Piaggio Avanti - the Posh Prop
For private jet charter advice and prices call our 24 hour expert Flight Team on +44 (0)20 7282 4961 or search for instant estimate prices from your local airport using our flight search:

The P180 Avanti twin propeller competes with jets on speed, size and on-board comfort...but at a fraction of the charter cost.
As PrivateFly's customers increasingly choose to fly on the Avanti, we investigate why the Piaggo Avanti is the posh prop that is creating a mini revolution in the private jet charter market.
Comfort and design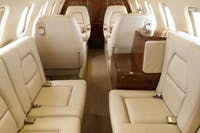 The P180 Avanti features a remarkably spacious cabin, significantly larger than any other competing private jet aircraft (including the KingAir, Citation XL and Learjet 45).
At 1.8m tall and just under 2m wide, the Avanti's cabin allows passengers to comfortably move around inside the aircraft with ease.
The Avanti is one of the quietest turbojet and turboprop business aircraft in production, with a noise level of just 68 dbA (quieter than a mobile phone ring tone).
The unique shape of the Avanti's fuselage, position of its engines and 5-blade propellers reduce vibration levels and make the P180 Avanti one of the most comfortable private aircraft on the market.
The Avanti's baggage space, (accessible from outside the aircraft) can accommodate extra-large luggage and skis and golf bags.
PIAGGIO AVANTI AIRCRAFT MODELS
The first flight of the Piaggio P180 Avanti was in 1986, with certification obtained in 1990. The original collaboration with Learjet to develop the aircraft can be seen in its distinctive tailfins, which support its stability and pitch.
Piaggio Avanti II
In 2005, the improved model of the Avanti II was granted certification in Europe and the U.S. Featuring upgrades to its Pratt & Whitney engines, with speed, range and fuel-efficiency improvements. This led to a fast growth in aircraft orders.
Piaggio Avanti Evo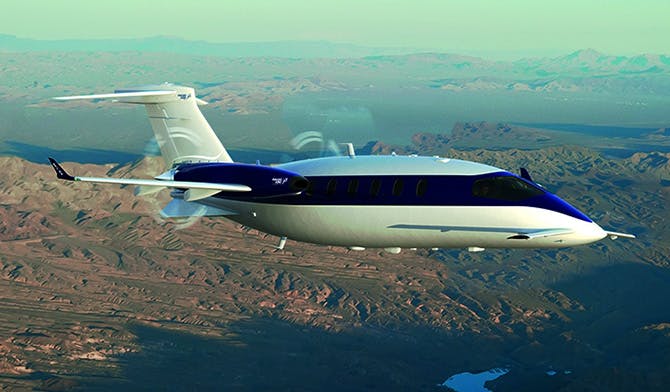 The Piaggio Avanti Evo is an upgraded model of the Avanti II, and the fastest turboprop in production. Its range has improved by 17% from the previous model, thanks to the additional fuel tank. The upgrade also allows shorter runway ability, landing on less than 3000 feet.
But the Evo is also more eco. It offers a 3% reduction in CO2 emissions compared to the Avanti II. And it is more than 40% more fuel efficient than comparative sized business jets.
The Piaggio Avanti Evo received type certification in January 2015 and delivered its first aircraft to a European customer in April 2015.
Prop vs. Jet comparison table
|   | Citation Mustang | Learjet 40XR | Piaggio Avanti |
| --- | --- | --- | --- |
| Speed | 340kts | 425kts | 402kts |
| Range | 1 050nm / 1 945km | 1 824nm / 3 378km | 1 470nm / 2 722km |
| Seats | 4 | 6 | 7 |
| Toilet | No | Yes | Yes |
| Baggage | 17.4 cu m | 16.8 cu m | 13.4 cu m |
| Average cost per flying hour | £1 300 / $2 036 / €1 521 | £2 355 / $3 691 / €2 745 | £1 350 / $2 114 / €1 579 |
Performance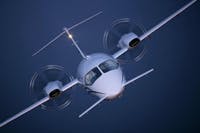 The Piaggio P180 Avanti holds various speed records and is capable of reaching up to 400 knots at a cruising altitude of 41,000ft - the fastest and most advanced turboprop in the world.
Take-off performance is equally impressive; the P180 Avanti can take-off and land on runways less than 1 000 metres long, offering excellent access to smaller local airports.
The Piaggio P180 Avanti also holds a steep approach certificate, which enables flights in and out of airports such as London City and Lugano.
Impressive range capabilities of the P180 Avanti enable flights of 1 300 nautical miles with a typical load (4 passengers and luggage), or 1 800 nm maximum range.
Unique features of the Avanti
Front wing
The Piaggio P180 Avanti is instantly recognisable by its small forward wing on the nose. This unusual design dramatically reduces weight and drag, providing superior performance and economical operations.
Fuselage
The Avanti's fuselage is aerodynamically shaped from nose to tail in a continuous curve, creating a perfect sleek profile that minimizes drag and maximizes performance.
Propellers
The "push" design of the propeller blades reduces air turbulence interfering with aerodynamics of the wing, making the Avanti more aerodynamic compared to the traditional propeller design used by other propeller aircraft such as the King Air.
Typical Avanti flights & costs
Geneva - Nice 49 min £2,960 More Information
Milan - Berlin 1 hrs 49 min £6,343 More Information
London - Lisbon 3 hrs 18 min £10,997 More Information
Paris - Athens 4 hrs 15 min £12,851 More Information
Costs are aircraft charter market rates (for 7 seats)
How to charter a Piaggio Avanti Aircraft
For a personalised quote for your private jet flight or further information please contact us or call +44 (0)20 7282 4961 (24 hours).